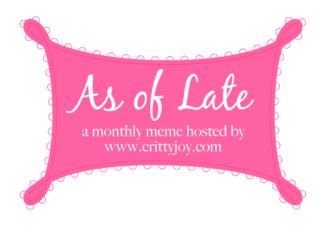 Lately, I am completely astounded at the fact that my heart can be so broken, but I can still have so much hope.
Lately, I feel like a failure often in my parenting, but then, I see the clouds part, the sun shine in, and I have moments of pure joy with my girls.
Lately, I have be grateful for Soli Deo Gloria and I am honored by the way God shows up – every single week – in these women's posts and their comments to each other.
Lately, God has asked me to put my pride on the line. He asked me to take the risk at failing publically. And it was really hard, but now, I think I'm over it. Well, at least for a little while.
Lately, I've been intrigued by the concept of a mind and body at rest. I took yoga for the first time on Tuesday and I could feel God begin to teach me what it really means to have a clear mind. It is possible! Amazing.
Lately, God has been asking me to walk through some places in my heart that He wants to heal (see broken heart above). As I grieve in those places, I feel Him grieving with me – a tangible representation of Him holding my hand as we walk through this wilderness.
What has been stirring in your life, as of late?
Linking up with Critty Joy for this wonderful monthly meme.