About this series: We all need encouragement, to be reminded we matter. Sometimes the nearest and dearest to us get the least of that needed encouragement. We've all spread ourselves too thin at times leaving little reserved for the ones we've committed to give to most, our spouse. So we're going to
do something about it. We're going to focus on the ones living right under our own roof, sleeping in our own bed. But no worries if you're spouse-free. You can apply the encouragement to someone in your life who needs it: children, co-workers, friends, family members. Any soul will do because we all long to know we are seen and heard. Wherever you see "spouse," substitute someone else's name. So grab a cup of coffee or whatever it is you're drinking
today, and get ready to give a little. You'll be glad you did.
********************************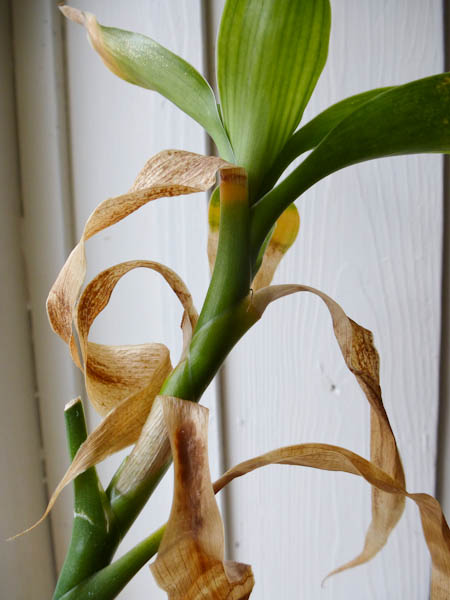 The once vibrantly alive houseplants in the large and sunny dining-room window missed my husband even more than I did.
Their healthy leaves had begun to yellow and fall off, forming a withering circle of condemnation around the base. "Can't you just flourish like you did before?" I implored.
"Miss Black Thumb here didn't choose you. Keith did. He's the one who gave you a home, and provided refreshment and nourishment. I am truly sorry, but my only role was to drink in your beauty."
At the beginning of the year, my husband took a promotion offered by his employer that required moving to a city about an hour and a half away. We had spent a significant amount of time talking about and praying on the pros and cons of the opportunity. We had decided it was worth doing, even though it meant, for several months, we would be living apart for the first time in almost three decades. However, once he had settled into the new job, we would find a more permanent home for the two of us in this new phase of our lives.
So we separated for almost five months.
He lived the much ballyhooed but barren bachelor's life in a small, one bedroom apartment in a large and anonymous complex.
I stayed at home, surrounded by all my warm and familiar comforts. Fortunately, our relationship had always been incredibly strong and mutually supportive.
Well, I thought it was.
What I learned to my deep chagrin, however, was that not only does absence makes the heart grow fonder, but the distance exposes the thin places in a relationship.
As G. K. Chesterton wrote,
"When it comes to life the critical thing is whether you take things for granted or take them with gratitude."
Guilty and convicted: I was taking my dear hubbie for granted.
The poor plants took the first hit, but other responsibilities I wasn't equipped to handle soon reared their heads. They had to wait for a brief overnight visit from Keith to be taken care of, a visit that was scheduled for R&R as opposed to work.
The realization dawned of how much Keith did to keep the proverbial home fires burning. With friends and family mere minutes away and safe and sound in my cocoon, here I was enjoying the freedoms of being single—cooking and eating at will, going to bed and reading as late as I wanted, getting up when I was ready—without much of the downside.
I was not being fully supportive of where he was physically and emotionally: alone in a strange city a long way from friends and family, recently diagnosed gluten-intolerant and learning how to shop, cook, and eat without wheat, and at a new second-shift management position that was turning out to be very disappointingly different from everyone's expectations.
I chose to change, to show more gratitude.
I visited almost every week, and would often stay for at least a couple of nights. Although I brought my work with me, I made spending time with Keith a priority.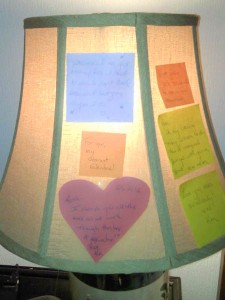 I bought cute cards and mailed them so that they would arrive in between my visits. I wrote short love notes and hid them for Keith to find after I was gone. He stuck them on his bedside lamp, so they were the last thing he saw before he turned out the lights.
Everybody together now: Awwww. :-)
Our new normal.
While the position did not work out, God presented another opportunity where Keith had worked prior to his promotion. My husband took that and moved back home on a warm day at the tail end of spring.
We are so grateful for our experience. We learned a lot about ourselves and our relationship in those months, but especially that things are not always what they seem.
Sometimes we just aren't able to take a true measure of our gratitude until circumstances intervene to sharpen our perspective.
I am so glad they did, and so are his plants.
ABOUT THE AUTHOR: Kim Hall shares her life experience with big servings of enthusiasm, hope, and joy on her blog,
Too Darn Happy
. Drawing on her almost thirty years of marriage, parenting two daughters, and being part of a large family, she offers fresh perspectives, practical advice, and a challenge to find happiness in all circumstances. She recently authored her first
ebook
, Practicing Gratitude and Discovering Joy-30 Days to a Happier You. She can be found happily sharing as well on
Facebook
and
Pinterest
, and on Twitter as @kimahall.
Linking today with Jennifer, Tracy, and Emily.